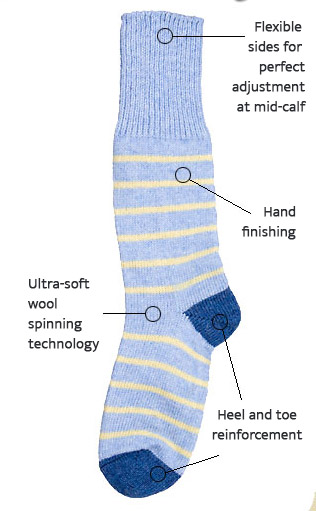 The Story Unwinds
Julie's socks are fully hand-finished and knitted with loving care from superior-quality, colorfast Shetland wool that won't run or fade.
Take a look at the 2016 collection to appreciate their beauty.


Wash them in cold water on the delicate cycle of your washing machine.
Dry them flat.
Avoid using a clothes dryer, as it shrinks wool. If you want to dry them more quickly, first pat them dry with a towel, but don't wring them.


Here at Les bas de Julie, we have always offered a guarantee of satisfaction, because we believe in our products.
Don't hesitate to write us, your comments or suggestions will be greatly appreciated - contact@basdejulie.com.
Video Tutorials
How To - Crochet Baby Sock Booties
Why To Choose Our Socks
Absorbing up to 35% of its weight in moisture
Made from environmentally-safe washable organic wool
We donate to charity, a percentage of every order.